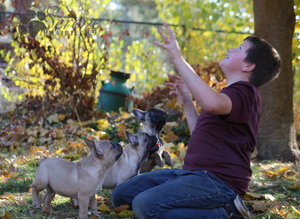 Welcome to Our Future Breeding's Page 
We are so excited about our 2023 Future Litter's if you are looking for a Quality French Bulldog puppy you have found the right place we are the only Frenchie Breeder in All of Spokane County Licensed to breed it was a lot of work but 100% worth it so that our families know we don't cut any corners!
All of our breeding's are well planed out from health testing to matching pedigrees and comparing structure of the dog's in the pedigrees to provide our families with quality puppies!
You might say you don't need your French Bulldog  puppy to be from a show breeder, But the truth is a show breeder shows to prove the sire and dam are Structurally Correct and worthy of breeding if you don't have a quality Structured dog you will have more vet bills from injuries.  We do not breed for fad colors not only because it is against the breed standard but because our vet has explained the health problems they have seen in the fad colors our job as a breeder is to do our best to provide The Best Quality French Bulldog's for our families that choose us to be apart of their family!
Paco x Martini Litter Born July 17,2023 they will be Ready September 11, 2023